| | |
| --- | --- |
| | This article is in need of more images to give readers a better understanding of the content. You can help the wiki by adding a clear image(s) to the article to enhance it. |
| | |
| --- | --- |
| | This article or section contains insufficient information and is considered a stub. You can assist this wiki by expanding it as much as you can. |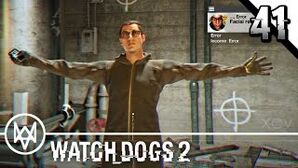 "An unwanted ghost of San Francisco's past has resurfaced after fifty years."
―Official description
Zodiac Killer is a DLC-exclusive mission in Watch Dogs 2, available only by pre-ordering the game. It features the return of the infamous Zodiac Killer, who haunted San Francisco for years. Players also receive an exclusive outfit and bonuses after completing the mission.
Trivia
Near the end of the mission, Josh states he has footage of a senator denying that he is the Zodiac Killer. This is a reference to Ted Cruz, as people claim that he is the Zodiac Killer, but he denies all claims. The senator is also from Texas, which further implies the theory that the senator is based on Ted Cruz.
The Zodiac Killer's character model is based on the real life Zodiac Killer's wanted poster, as well as the witness description of the outfit he was wearing when he murdered a cab driver named Paul Stine in October 1969. He also uses the real life Zodiac Killer's famous line: "This is the Zodiac speaking...".
Ad blocker interference detected!
Wikia is a free-to-use site that makes money from advertising. We have a modified experience for viewers using ad blockers

Wikia is not accessible if you've made further modifications. Remove the custom ad blocker rule(s) and the page will load as expected.