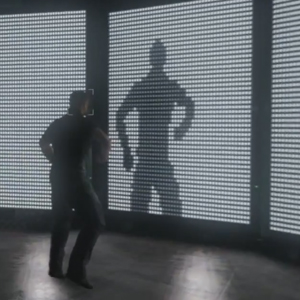 You Are What We Say is an art piece at the Dot ConneXion expo made by Nigerian-American artist Joy Ndidi Adebayo.
Summary
It is a digital mirror made up of multiple small LED screens and motion sensors that manages to reflect the behavior of anyone near it. The default color of the screens is white, but when somebody gets close by, the most specific screens to create a mirror effect will turn black.
Representation
This piece represents all the existent data in the world and how it can be represented in the digital world, or even recreated. Adebayo expects that the viewers will find it both exciting and frightening.
Role
In Watch Dogs, it can be seen in the mission The Defalt Condition, where it is being displayed in the foyer of the Ambrose Theatre.
Further reading
Ad blocker interference detected!
Wikia is a free-to-use site that makes money from advertising. We have a modified experience for viewers using ad blockers

Wikia is not accessible if you've made further modifications. Remove the custom ad blocker rule(s) and the page will load as expected.