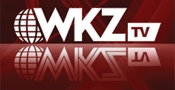 WKZ TV is a major news broadcasting company in Watch Dogs and Watch Dogs 2, which owns electronic displays, paper medium, and digital broadcasting across the world.
Description
The broadcasting network hosts news, weather, and stock reports for Chicago and San Francisco. WKZ TV updates players on the city's conflicts and crimes as they progress through the game - like when Aiden or Marcus Holloway commit a significant crime or action. WKZ TV owns a fleet of News Vans for broadcasting and News Trucks (Media Broadcast Trucks in Watch Dogs 2) for advertising.
Trivia
WKZ TV is based on CNN, as evidenced by the coloring of its logo and branding. It could also be based on Fox News to an extent.
There are times that the news will bring up Aiden and Marcus Holloway as most wanted criminals for a brief period of time. At this point, all Pedestrians will recognize them and prepare to call 911, resulting in a Police Pursuit if they are not stopped.
Usually after completing a mission, a newswoman named Shirley will report what the player has done, usually citing DedSec.
Gallery
Twitter