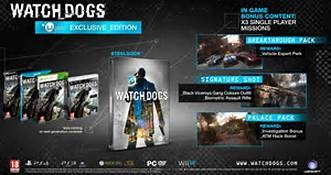 The Uplay Edition of Watch Dogs is an exclusive version of the game available only in Europe, the Middle East, and parts of Africa (EMEA). It is only available through Ubisoft's shop.
Description
The Uplay Exclusive Edition of Watch Dogs is sold only by Ubisoft, and contains 3 DLCs and a steelbook case for the game. It costs €79.99.
Content
Physical- Exclusive steelbook copy of Watch Dogs.
Digital- Signature Shot, Breakthrough Pack, and Palace Pack.
Ad blocker interference detected!
Wikia is a free-to-use site that makes money from advertising. We have a modified experience for viewers using ad blockers

Wikia is not accessible if you've made further modifications. Remove the custom ad blocker rule(s) and the page will load as expected.