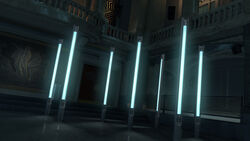 Unblinking
 is an installation art piece at the
Dot ConneXion
art exposition, created by
Simon Mitchell
.
[1]
It is composed of seven light columns with directed lights that track anyone who passes by, encouraging them to slow down and think about what the piece is communicating.
According to Mitchell, the inspiration for this piece came from a trip to the grocery store.[1] Upon entering the store, the security camera showed him walking in on a monitor perch. Mitchell said of this moment, "I guess that's their way of saying "Hey, we're watching you!" or whatever, and I know I'd seen it probably a thousand times, but for some reason it just struck me then, kind of a "Wow, I can't even buy milk without someone watching me.""
References
Ad blocker interference detected!
Wikia is a free-to-use site that makes money from advertising. We have a modified experience for viewers using ad blockers

Wikia is not accessible if you've made further modifications. Remove the custom ad blocker rule(s) and the page will load as expected.