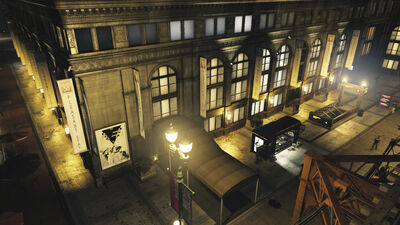 The Tremont House Hotel is one of the City Hotspot locations found in The Loop and is a landmark within Chicago in Watch Dogs.
History
Built in 1833, the Tremont was designed to be one of the first luxurious hotels in Chicago, and was subsequently rebuilt 3 times. Abraham Lincoln stayed here. Criminal John Stone lingered around the 2nd floor hall off and on for a few years until he was arrested and convicted for rape in 1840. Stone has the dubious distinction of being the first man to be executed in the city of Chicago. '
Ad blocker interference detected!
Wikia is a free-to-use site that makes money from advertising. We have a modified experience for viewers using ad blockers

Wikia is not accessible if you've made further modifications. Remove the custom ad blocker rule(s) and the page will load as expected.