| | |
| --- | --- |
| | This article or section contains insufficient information and is considered a stub. You can assist this wiki by expanding it as much as you can. |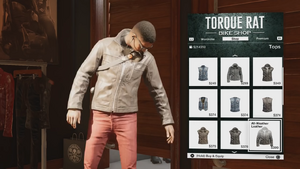 Torque Rat Bike Shop is a clothing store that appears in Watch Dogs 2. As their name suggests, they specialize in biker fashion and biker equipment such as boots, helmets, and leather jackets.
Locations
Stock
The following clothing items are available for purchase by Marcus.
Apparel
Item
Price

Road Bag: Pist On
Cop Shades: Kiss My Brass
Hats
Item
Price

Road Wrap: Finish Line
Road Wrap: Highway Pirate
Road Wrap: Bandito
Road Wrap: U-S-A! U-S-A!
Trucker Crown: Proud To Be
Trucker Crown: The Original
Brain Bucket: Desert Goggles
Brain Bucket: Dunkelsoldat
Brain Bucket: Spiegelsoldat

$75
$75
$85
$119
$229
$229
$281
$281
$281
Tops
Item
Price

A.o.S. Tank Top
One Percenter: For Life
Rally Week Easy Rider
The Cut: Defender
The Cut: Enforcer
All-Weather: Synthetic
Lone Wolf: T-Shirt
Luckless: Bastard Shirt
Red Devil: Sleeveless T-Shirt
Rally Week: Iron Butt
One Percenter: Original
The Cut: Greybeard
The Cut: Nomad
Rally Week: Hang-Around
Rally Week: Road Captain
All-Weather: Leather
One Percenter: Earned Wings
One Percenter: Patched
Classic Biker: Leather Padre
Classic Biker: Road Armor
Classic Biker: Wild One
The Weekender: Bloody
The Weekender: Filthy
Working Man: Blue Collar
Working Man: No Days Off
Crotch Rocket: Speed Demon

$249
$249
$249
$249
$249
$299
$299
$299
$299
$349
$374
$374
$374
$379
$379
$399
$459
$459
$561
$561
$561
$561
$561
$561
$561
$1121
Bottoms
Item
Price

CYA: Fashion Victim
CYA: Your Only Pair
Road Rashers: Crust Punk
Road Rashers: Doomcore
Road Rashers: Grindcore
CYA: Road Leathers

$249
$249
$374
$374
$374
$449
Footwear
Item
Price

Rider Boots: Grit
Rider Boots: Oil
Rider Boots: Steel
Stompers: Rolled
Stompers: Strapped
Stompers: Studded
Guaracheros: Free Spirit
Guaracheros: Hellfire
Guaracheros: Skullcracker
Shitkickers: Cowboy
Shitkickers: Poser
Shitkickers: Rancher

$449
$449
$449
$498
$498
$529
$747
$747
$747
$747
$747
$747