| | |
| --- | --- |
| | This article or section contains insufficient information and is considered a stub. You can assist this wiki by expanding it as much as you can. |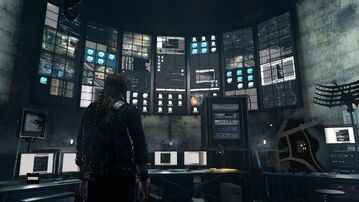 The Silo is a building previously owned by the Tidis Corporation in Watch Dogs: Bad Blood, located in the Brandon Docks district. It served as Raymond "T-Bone" Kenney's hideout and safehouse for the duration of the DLC. T-Bone also let Tobias Frewer stay there to hide from Fixers.
Trivia
Inside, there are two elevators and a variety of objects, including a custom Talking Moose head.
There are four boxes of Ubisoft games: one on a box by the door, one on a shelf by the bed, another one under the stairs, and one on top of the lockers in the computer room.
Using the profiler, one can see an All Seeing Eye.
Ad blocker interference detected!
Wikia is a free-to-use site that makes money from advertising. We have a modified experience for viewers using ad blockers

Wikia is not accessible if you've made further modifications. Remove the custom ad blocker rule(s) and the page will load as expected.