| | |
| --- | --- |
| | This article or section contains insufficient information and is considered a stub. You can assist this wiki by expanding it as much as you can. |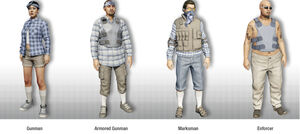 The Tezcas are a Latino faction gang that appears in Watch Dogs 2. They appear to be based on Latino gangs in San Francisco.
History
The Tezcas formed in 1957 by members of various Latino street gangs in Southern California who banded together in prison to protect themselves. They have since gone from a prison gang to an alliance of street gangs and are feared for being highly violent. They have more than one leader, including women. The Tezcas are among the most violent faction and often engage in murder-for-hire with other gangs like the Aryans and with South American cartels.
Gang Attack
Level 1: N/A
Level 2: N/A
Level 3: Two enforcers, both carrying AK-47's.
Gallery
Trivia
They may be based on MS-13 , an active Californian gang; due to their use of tattoos, country of origin, brutality, and location.
The Tezcas are responsible for Horatio Carlin's death.
Ad blocker interference detected!
Wikia is a free-to-use site that makes money from advertising. We have a modified experience for viewers using ad blockers

Wikia is not accessible if you've made further modifications. Remove the custom ad blocker rule(s) and the page will load as expected.