T-Bone's Nightmare is a defensive trap designed by Raymond "T-Bone" Kenney to defend his junkyard.
Performance
The trap is simply a horsey ride with flamethrowers situated in its butt and ears. Also, it has some gas tanks near it, making trap an enemy blower. This trap is useful against Enforcers.
Locations
Can only be found in T-Bone's Junkyard.
Videos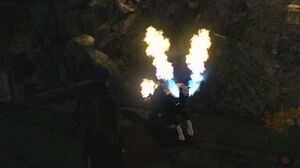 Ad blocker interference detected!
Wikia is a free-to-use site that makes money from advertising. We have a modified experience for viewers using ad blockers

Wikia is not accessible if you've made further modifications. Remove the custom ad blocker rule(s) and the page will load as expected.