| | |
| --- | --- |
| | This article is in need of more images to give readers a better understanding of the content. You can help the wiki by adding a clear image(s) to the article to enhance it. |
❝ This iconic TV and radio antenna has been part of the San Francisco skyline since 1973. They built the tall tower to provide signal that wouldn't be disrupted by San Francisco's many hills.❞
―In-game description.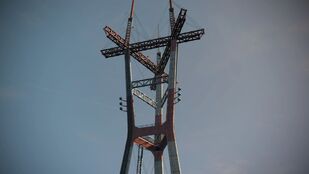 Sutro Tower is a world location in Watch Dogs 2.
Location
Sutro Tower is located in the hills to the south of San Francisco. It is situated to the north of Twin Peaks, and to the east of Crestmont Forest.
Description
Sutro Tower is a three-pronged antenna tower located on one of San Francisco's many hills, it has a two-story building with a number of large satellite dishes on the roof, at the base of it, the entire compound is surrounded by a large security fence. This location is a restricted area and is patrolled by six Umeni Security guards. There is a large parking area next to the main building with a number of WKZ TV vans parked there.
Collectibles
Trivia
This location is based on the real life Sutro Tower.
This location was featured prominently in the final chapter of the main operation Haum Sweet Haum.
WKZ TV have their logo on many of the dishes attached to the tower.
Gallery