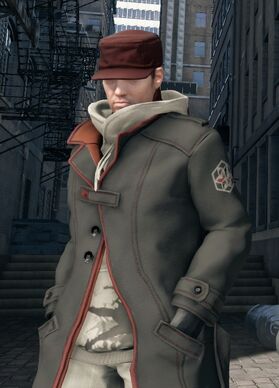 Spider-Tank is a clothing outfit that appears in Watch Dogs. It can be acquired by completing the Spider-Tank Digital Trip. This is one of the exclusive outfits along with the Conspiracy, Psychedelic, Madness and the Alone outfits that can be unlocked by fully completing all Digital Trips. Once completed, go back to your Hideout to wear it.
The Spider-Tank outfit consists of
Charcoal trench coat, with red trim and spider-tank emblems
White zip turtle neck sweater emblazoned with dark gray spider-tank
White jeans
Black sneakers with red laces
Red cap
Black mask with jagged red stripes
Ad blocker interference detected!
Wikia is a free-to-use site that makes money from advertising. We have a modified experience for viewers using ad blockers

Wikia is not accessible if you've made further modifications. Remove the custom ad blocker rule(s) and the page will load as expected.