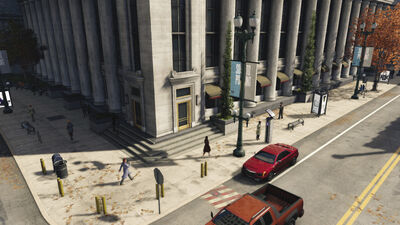 The Seventh Federal Bank is one of the City Hotspot locations found in The Loop and is a landmark within Chicago in Watch Dogs.
History
It's a grand old building that's seen its share of thieves. One day in September 1933, bank robber Alvin Karpis used machine-guns and smoke bombs to rob the bank. With five sacks loaded in the car, Karpis made his getaway right into a head-on collision. When an officer stopped to investigate the accident, Karpis gunned the officer down and stole a car. The escape took Karpis to a south side hideout where he discovered the sacks were full of mail.
Ad blocker interference detected!
Wikia is a free-to-use site that makes money from advertising. We have a modified experience for viewers using ad blockers

Wikia is not accessible if you've made further modifications. Remove the custom ad blocker rule(s) and the page will load as expected.