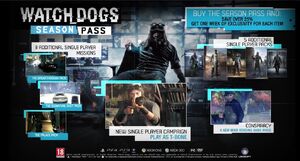 The season pass for Watch Dogs is available for Xbox One, Xbox 360, PC, PlayStation 4 and PlayStation 3. It is available for purchase for $19.99 USD.
Mission Packs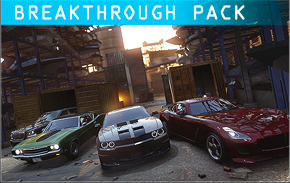 The season pass gives its buyers all four available single player mission packs:
Outfit Packs
The season pass also includes several add-on packs, each with an outfit and an ability/gun.
Note that Aiden does not need to be wearing the outfit to gain its ability or gun.
Single-Player
Players will even get an all new single-player campaign where they will get to play as T-Bone Grady and even more bonus missions to play as Aiden Pearce, which aren't in the three mission packs.
Game Mode
The season pass also includes Conspiracy!, a DLC Digital Trip (worth $5) which is a hunting based mode that has the player profile cyborgs that are hidden within large concentrations of civilians using an electronic "eye glass", then eliminate them using different weapons and abilities.
Trivia
The season pass will save you 20% over buying them separately.
This is the first time that the player will be able to play as any other character other than Aiden in Watch Dogs.
All season pass holders will receive future DLC one week earlier than normal players.
This is the only way to get all the five bonus gear for Aiden in the U.S.
This is also the only way to get all three single-player mission packs (besides the DedSec Edition which is only available in Europe and Australia).
Gallery
Ad blocker interference detected!
Wikia is a free-to-use site that makes money from advertising. We have a modified experience for viewers using ad blockers

Wikia is not accessible if you've made further modifications. Remove the custom ad blocker rule(s) and the page will load as expected.