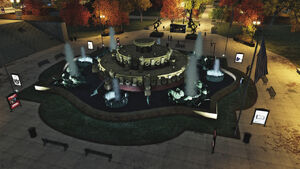 The Saffard Memorial Fountain is one of the City Hotspot locations found in The Loop and is a landmark within Chicago in Watch Dogs. It is based on the Buckingham Fountain.
History
Saffard Fountain may be the first thing you'll see as you step into Chicago's front lawn. It's a breathtaking representation of Lake Michigan and the states that surround it. In Wintertime, taxpayers doll it up in dazzling lights. In summertime, if you're lucky, you can catch the siren songs of its majestic mermaid - you usually have a good twenty minutes before the cops haul him away.
Ad blocker interference detected!
Wikia is a free-to-use site that makes money from advertising. We have a modified experience for viewers using ad blockers

Wikia is not accessible if you've made further modifications. Remove the custom ad blocker rule(s) and the page will load as expected.