| | |
| --- | --- |
| | This article or section contains insufficient information and is considered a stub. You can assist this wiki by expanding it as much as you can. |
| | |
| --- | --- |
| | This article is in need of more images to give readers a better understanding of the content. You can help the wiki by adding a clear image(s) to the article to enhance it. |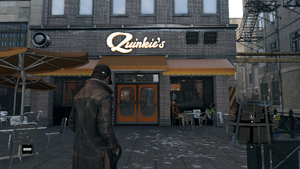 Quinkie's is a fast food chain in Watch Dogs and Watch Dogs 2.
About
Based on its advertisements, the business appears to be based on the real-life fast food chain McDonald's, as well as Burger King to some extent.
Watch Dogs
Quinkie's can be seen advertised on various bus stands and billboards around the city of Chicago. There are six restaurants across every district except Pawnee, where Aiden can purchase soft drinks to replenish his focus meter. From the interior of these restaurants, it is revealed that the shop sells burgers, hot dogs, brownies, soft drinks, French fries, cookies, and donuts. The interior is also extremely messy and dirty.
Watch Dogs: Bad Blood
In the Watch Dogs: Bad Blood DLC, there is a scene in a Quinkie's where T-Bone and Tobias Frewer discuss mission plans, while Tobias takes pills. At the end of the Bad Blood story, Tobias attempts to get T-Bone to eat a Quinkie's burger, which he is against because he believes that the secret sauce is some kind of mind control drug. T-Bone eventually takes a bite and belches, realizing that he loves it.
Watch Dogs 2
Quinkie's is also advertised around the Bay Area, and seems to operate a fleet of Boxvans, as these will spawn with Quinkie's livery on it. Like in the first game, several restaurants are located across the map.
Gallery
Locations
Watch Dogs
Watch Dogs 2
Trivia
The business makes a guest appearance in the Ubisoft Game "Tom Clancy's Rainbow Six Siege" as it can be seen in the map "Bank" on the outside of the boundaries.