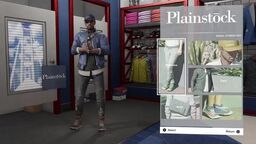 Plainstock is a clothing store in Watch Dogs 2. They sell mainly basic, plain designs of tops, bottoms, hats and bags.
Locations
Stock
The following clothing items are available for purchase by Marcus.
Apparel
Item
Price

The Minimalist: Line Noise
The Minimalist: Clear Sky
The Minimalist: Letter Day
Hats
Item
Price

Plainstock Hat: Inky Black
Plainstock Hat: Tighty White
Plainstock Hat: Gravy Brown
Plainstock Hat: Lemony Yellow
Plainstock Hat: Orangey Orange
Slouchy Knit: Resin Brown
Plainstock Hat: Dolores Green
Plainstock Hat: Rusty Red

$50
$50
$143
$143
$143
$190
$250
$250
Tops
Item
Price

Blue Ridge: Serious Stripes
Plainstock Tee: Detached Grey
Plainstock Tee: Fugue Grey
Plainstock Tee: Nihilist Black
Plainstock Tee: Obsessed White
Plainstock Tee: Depressed Blue
Plainstock Tee: Manic Orange
Plainstock Tee: Paranoia Green
Plainstock Tee: Repressed Red
Spotted Dots Shirt
Squared T-Shirt
Dudebro Polo: Flare
Dudebro Polo: Monochrome
Dudebro Polo: Sales Squad
Dudebro Polo: Technicolor
Wavelength Shirt
Casual FiDi: Intern
Casual FiDi: Marketing Team
Casual FiDi: Sales Team
Dudebro Polo: Ivy League
Peak Style Sweater
SOMA Sherpa: Warrior
SOMA Sherpa: Hi-Vis
SOMA Sherpa: Safety
SOMA Sherpa: Shadow
Thrifty Knit: Highland
Thrifty Knit: Nerdcore
Thrifty Knit: Sitcom Dad
Thrifty Knit: Stripetastic
Coder Uniform: Black Space
Coder Uniform: Error Grey
Coder Uniform: Navy Hash
The Hackathon: Dolores Green
The Hackathon: Mission Blue
The Hackathon: Sutro Red
Grandma Knit: After Midnight
Lightly Ribbed: Mustardly
Middle Manager: Clocked Out
Middle Manager: Meeting Grey
Middle Manager: Overtime
Plainstock Zip: Banker Black
Plainstock Zip: Garish Grey
Plainstock Zip: Groggy Green
Plainstock Zip: Offbeat Orange
Plainstock Zip: Pauper Purple
Plainstock Zip: Yuppie Yellow
Sweaty Fleece: Austrian Grey
Sweaty Fleece: Swiss Grey
The Commuter: All-Nighter
The Commuter: Cosmopolitan
The Commuter: Free Spirit

$39
$39
$39
$39
$39
$122
$122
$122
$122
$122
$122
$150
$150
$150
$150
$150
$179
$179
$179
$179
$179
$179
$179
$179
$179
$179
$179
$179
$179
$207
$207
$207
$207
$207
$207
$238
$238
$238
$238
$238
$238
$238
$238
$238
$238
$238
$238
$238
$238
$238
$238
Bottoms
Item
Price

Trackies: All Purpose
Dad Shorts: High Roller
Classy Jeans: Nicely Worn In
Trackies: Basic Sweats
Trackies: Gym Teacher
Trackies: Pristine
Classic Jeans: Freshly Blue
Classic Jeans: Gamer Black
Classic Jeans: Pre-Faded Blue

$48
$72
$95
$95
$95
$95
$119
$119
$119
Footwear
Item
PriceNo Dress

Questionable: The Novato
Questionable: The Petaluma
Questionable: The Sausalito
Gatorfeet: Executive
Gatorfeet: Leg Day
Gatorfeet: Prop 215
Gatorfeet: Safety First
Nero Sandals: Ash
No Dress Code: CEO
Gatorfeet: Whine Country
Casual Canvas: Blue Chip
Casual Canvas: Greenbacks
Casual Canvas: Greenerbacks
Casual Canvas: Grey Morals
Casual Canvas: In The Black
Casual Canvas: In The Red
Casual Canvas: MBA Brown
Gatorfeet: Apple Picker
Higher Bracket: Santa Barbara
Higher Bracket: Santa Cruz
Higher Bracket: Santa Monica
Hikers: Montara
Hikers: Tamalpais
Hikers: Vaca
Nero Sandals: Fiddle
Nero Sandals: Flame
No Dress Code: Developer
No Dress Code: IT Tech
Lazy Sneakers: Granddad Pants
Lazy Sneakers: I'm A Warrior
Retro Sneaks: Basic Black
Retro Sneaks: Blue Jeans
Retro Sneaks: Freedom Feet
Retro Sneaks: Power Exchange
Retro Sneaks: Turn It Up
Formal Sandals: Black Tie
Formal Sandals: Business Dress
Formal Sandals: Casual Friday
Crunchyfoot: Compost Bin
Crunchyfoot: Landfill Bin
Crunchyfoot: Recycle Bin
Lazy Sneakers: ...With Envy
Lazy Sneakers: The 90s Live
Lazy Sneakers: Woolies

$48
$48
$48
$50
$50
$55
$55
$57
$60
$65
$72
$72
$72
$72
$72
$72
$72
$72
$72
$72
$72
$72
$72
$72
$72
$72
$72
$72
$107
$107
$107
$107
$107
$107
$107
$119
$119
$119
$143
$143
$143
$143
$143
$143
Trivia
The sandal line "Nero Sandals" is a reference to the legend of Emperor Nero playing the fiddle while Rome burned around him.