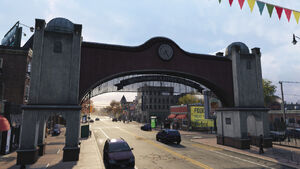 Piper Gate is one of the City Hotspot locations found in Parker Square and is a landmark within Chicago in Watch Dogs. It is based on a real life area "Little Village".
History
The Piper Gate serves as the starting point for Chicago's annual Cinco de Mayo street festival. For an entire weekend, this small corner of Chicago comes to life in a celebration of Mexican music, food, and culture. It is one of my personal favorite things to do in the city. Try to find me next year! I'll be the one gorging myself on pupusas and trying to talk up the tango dancers.
Ad blocker interference detected!
Wikia is a free-to-use site that makes money from advertising. We have a modified experience for viewers using ad blockers

Wikia is not accessible if you've made further modifications. Remove the custom ad blocker rule(s) and the page will load as expected.