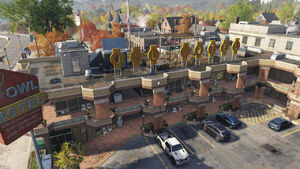 The Owl Motel is one of the City Hotspot locations found in Parker Square and is a landmark within Chicago in Watch Dogs. It is also the location of Aiden's first hideout. It was severely damaged in Collateral
History
This quiet little motel had its own short moment of heated excitement in 1967, when an informant crucial to the conviction of Sam "Teets" Battaglia was kept under wraps in room 205. For the time of Battaglia's trial, the informant, Joseph Joyce, had to be moved repeatedly to escape being murdered by Battaglia's men. The Owl Motel was Joyce's last relocation before he took the stand, putting away Battaglia for good.
Badges
The following badges are available at this hotspot:
| Badge Icon | Badge Name | Badge Message | How to Obtain | Mission |
| --- | --- | --- | --- | --- |
| | Pack Your Bags | Sorry, we've lost your reservation, try a different hotel. | Check in at the Owl Motel and the Crazy Moose Inn within 240 seconds of each other. | |
| | Romantic Getaway | I'm not going to ask too many questions; just don't get caught, okay? | In a multiplayer session, check into the Owl Motel with a friend after midnight (game time). | |
Ad blocker interference detected!
Wikia is a free-to-use site that makes money from advertising. We have a modified experience for viewers using ad blockers

Wikia is not accessible if you've made further modifications. Remove the custom ad blocker rule(s) and the page will load as expected.