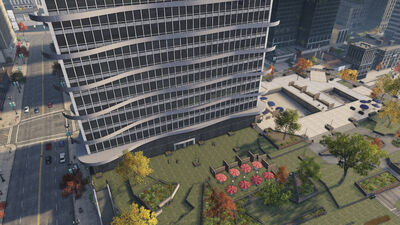 The Ocean Tower is one of the City Hotspot locations found in The Loop and is a landmark within Chicago in Watch Dogs.
History
This striking skyscraper is unique to Chicago for many reasons. Not only does it feature one-of-a-kind, undulating balconies that give the building a watery quality, it is also the tallest building in the world to have a woman as a lead architect. Girl power!
Trivia
The Ocean Tower is based on the real-life equivalent, Aqua Tower.
Ad blocker interference detected!
Wikia is a free-to-use site that makes money from advertising. We have a modified experience for viewers using ad blockers

Wikia is not accessible if you've made further modifications. Remove the custom ad blocker rule(s) and the page will load as expected.