| | |
| --- | --- |
| | This article or section contains insufficient information and is considered a stub. You can assist this wiki by expanding it as much as you can. |
"No Parking" is a Gang Hideout side mission available in Watch Dogs.
Description
Using his Profiler, Aiden Pearce learned that the Chicago South Club was sheltering one of their own, a wanted fugitive, in a Club-owned public parking garage. Using stealth tactics, Aiden was able to remove the dozen or so thugs sent to guard the fugitive before taking him down personally. When word of the man's arrest hit the news, it dealt a serious blow to the belief that the Club was completely untouchable.
Trivia
The guard with the hidden camera has a fixed profile: Galtero Blanco, Diagnosed with terminal cancer, Occupation: Laundry Manager.

This is a reference to the TV show Breaking Bad, as "Galtero Blanco" is the Spanish equivalent for "Walter White" (though technically incorrect: the Spanish version of Walter is actually Gualterio).
This is the same profile as one of the guards in Out Of the Woodwork.
Video Walkthrough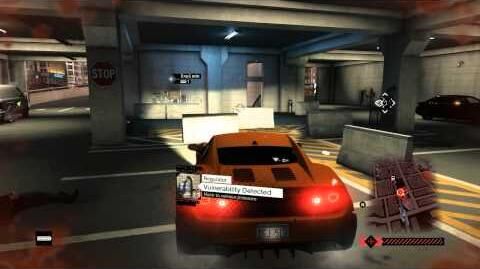 Ad blocker interference detected!
Wikia is a free-to-use site that makes money from advertising. We have a modified experience for viewers using ad blockers

Wikia is not accessible if you've made further modifications. Remove the custom ad blocker rule(s) and the page will load as expected.