| | |
| --- | --- |
| | This article is in need of more images to give readers a better understanding of the content. You can help the wiki by adding a clear image(s) to the article to enhance it. |
| | |
| --- | --- |
| | This article or section contains insufficient information and is considered a stub. You can assist this wiki by expanding it as much as you can. |
Not to be confused with the New Dawn Temple or New Dawn HQ.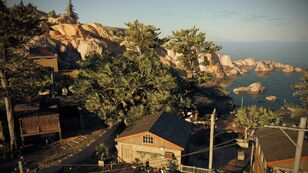 ❝ No one is quite sure what goes on behind the walls of the Spiritual Ascendance Development Facility. This religious group is often viewed with suspicion and considered a cult.❞
―In-game description.
The New Dawn Facility is a World Location featured in Watch Dogs 2.
Location
New Dawn Facility is located in southwestern San Francisco. It is located east of Crestmont Forest and south of Ocean Beach.
Description
The New Dawn Facility is a group of small buildings owned by the Church of the New Dawn. The facility is guarded by an indestructible fence, there is a gate at the end of the entrance driveway that can be opened and three rear entrances on the beach. It is a restricted zone equipped with four Umeni officers. There are five buildings inside the facility with a pagoda overlooking the beach.
Collectibles
1 Money bag on the west-side of the compound.
1 Key Data; Security System Shutdown, found in the middle of the compound.
Trivia
The facility is known as the "Red Room" to the members of the church.
The location appears in the mission False Profits.