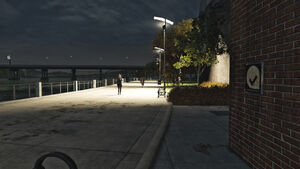 The Meadowmoore Dairies is one of the City Hotspot locations found in The Loop and is a landmark within Chicago in Watch Dogs.
History
This park was once the site of Meadowmoore Dairies, opened in 1932 by Al Capone three months before he was incarcerated. Capone, along with his right-hand man Murray Humphreys, were keen to get into the milk business upon learning they could get a greater markup for milk than alcohol. Capone famously remarked to his associates, "we've been in the wrong business all along!"
Ad blocker interference detected!
Wikia is a free-to-use site that makes money from advertising. We have a modified experience for viewers using ad blockers

Wikia is not accessible if you've made further modifications. Remove the custom ad blocker rule(s) and the page will load as expected.