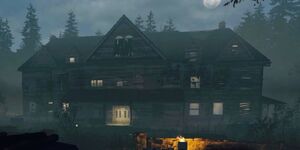 An unnamed mansion appears in Watch Dogs: Bad Blood, in the mission Bad Medicine. In the Wii U port of the first game, however, it appears on the map in the same location it is in Bad Blood, despite not being accessible in the port.
Appearance
The mansion is an extremely old mansion, most likely built in the early 20th century. It is exclusive to the Watch Dogs: Bad Blood DLC, so it does not exist in the main game. Inside the mansion is very dilapidated, messy, and dirty. It has two floors: bedrooms upstairs and a living room, kitchens, etc. downstairs. It also has a basement which contains other supplies, as well as two corpses.
Role
In the mission, Raymond "T-Bone" Kenney must use a boat to reach this mansion, which is on the shore outside of Chicago, north of the Mad Mile. The mansion itself is used as an illegal hospital to hospitalize people who don't want to use a normal hospital, like Fixers. Once there, T-Bone must take out all enemies and sneak inside the mansion. Inside, he must find his way into Alex Javorski's room and talk to him about sensitive Blume information. Alex is hooked up to machines and is on bedrest, and once T-Bone talks to him he must sneak out of the area unnoticed by any enemies, including the police.
Ad blocker interference detected!
Wikia is a free-to-use site that makes money from advertising. We have a modified experience for viewers using ad blockers

Wikia is not accessible if you've made further modifications. Remove the custom ad blocker rule(s) and the page will load as expected.