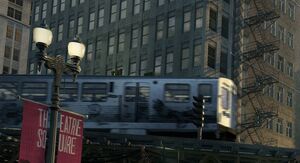 The "L" train (short for "Elevated Train") is a form of public transportation controlled by CTOS in Chicago. It is based on the real life Chicago "L". In the game, the player can fast travel to any station using the train.
Design
The train is somewhat based on a mixture of Morrison-Knudsen 3200 and Bombardier Transit 5000 series railcars which currently operate on the real life L train system, and can feature two, three or more railcars featuring sleek, stainless steel bodywork. The quantity of carriages varies from line to line. The train features front and rear lights which indicate the direction of the train. The direction and the destination is also indicated on an LED panel above the windshield. The interior of the train is very classic and some carriages feature light graffiti. It features rows of seats and bars to catch on. The color of the interior is blue but may differ according to the line. The maintaining of the trains depends of the districts they cross, as well as the frequency.
Hacks
Network
The "L" -train network runs through almost every district within the city, with 23 total stations on the Red and Blue lines. In reality, the "L"-Train line names are based on colors.
Trivia
The train can be hacked and controlled by buying the Train Control skill from Skill Tree.
It is not possible to fast travel while the player has a Heat Level.
The ground will shake when the "L" train is passing by, and if it is hacked, the ground will shake even more.
The real life "L" is driver controlled. The Watch Dogs rendition is operated by CTOS, leaving no need for a driver. There is, however, a train operator in the front car.
No NPCs actually ever get on/off the train.
The real-life "L"-trains have 3 windows on each side between the doors, while the Watch Dogs versions have 4.
Gallery
Ad blocker interference detected!
Wikia is a free-to-use site that makes money from advertising. We have a modified experience for viewers using ad blockers

Wikia is not accessible if you've made further modifications. Remove the custom ad blocker rule(s) and the page will load as expected.