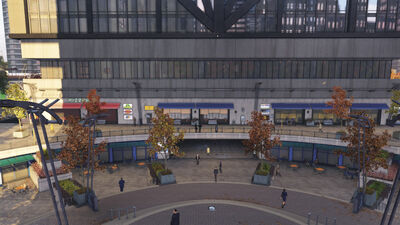 The John Hancock Center is a Chicago landmark located in the Mad Mile Area of Chicago. The building is 100 stories high and tops at 1,506 ft (459 m).
Badges
The following badges are available at this hotspot:
Trivia
The real John Hancock Center's address is 875 North Michigan Avenue, Chicago IL. in Mag Mile.
The Cross-bracing, shape, and overall orientation of the building has been changed in Watch Dogs
The building in real life features a 95th floor restaurant, condos, offices, shops, an indoor pool, and a shopping mart. All of these interior areas are inaccessible in Watch Dogs.
Ad blocker interference detected!
Wikia is a free-to-use site that makes money from advertising. We have a modified experience for viewers using ad blockers

Wikia is not accessible if you've made further modifications. Remove the custom ad blocker rule(s) and the page will load as expected.