| | |
| --- | --- |
| | This article or section needs to be improved, tidied, rewritten, or formatted to conform a higher standard of article quality. You can assist the wiki by improving it. |
| | |
| --- | --- |
| | This article or section contains insufficient information and is considered a stub. You can assist this wiki by expanding it as much as you can. |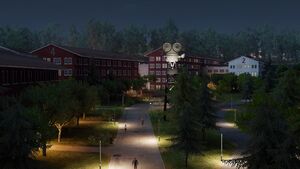 Hook Motion Pictures is a movie and film production company during the events of Watch Dogs 2. The film studio is also a World Location in the game.
Location
Hook Motion Pictures is located in northeastern San Francisco, in the Presidio. It is south of the Palace of Fine Arts and west of Lombard Street.
Description
Hook Motions Pictures is the owner of this location, a large outdoor movie studio. Hook Motion Pictures is guarded by an indestructible gate, but can be easily accessed by Marcus via a door. The studio has an abudance of walkways and trees along with a small lake and river. Five studios can be found here along with people browsing the park's grounds.
World Location Summary
Hook Motions PIctures is a local move studio, currently working on what is anticipated to be an action blockbuster film starring Jimmy Siska.
Gallery
Trivia 
Ad blocker interference detected!
Wikia is a free-to-use site that makes money from advertising. We have a modified experience for viewers using ad blockers

Wikia is not accessible if you've made further modifications. Remove the custom ad blocker rule(s) and the page will load as expected.