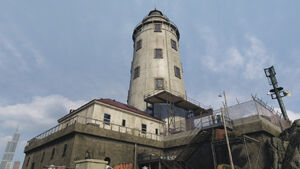 The Harbor Lighthouse is one of the City Hotspot locations found in The Loop and is a landmark within Chicago in Watch Dogs.
History
Harbor Lighthouse has been a beacon to passing ships and teenagers looking for a place to make out since it was built in 1893. At the time it was considered state of the art engineering and has always been upgraded accordingly. The lens is extremely rare. So here's hoping it lasts longer than the light bulb in my bathroom.
Role
The lighthouse is the location where Damien Brenks finally confronts Aiden Pearce at the last mission, Sometimes You Still Lose. They have a conversation until Jordi Chin arrives, holding Aiden at gunpoint. Aiden triggers an explosion, taking down Jordi and shooting Damien, putting an end to his revenge for his niece's death.
Badges
The following badges are available at this hotspot:
| Badge Icon | Badge Name | Badge Message | How to Obtain | Mission |
| --- | --- | --- | --- | --- |
| | Keeper of the Lighthouse | It can get pretty lonely out here; it can even drive you mad! | Check in at the Harbor Lighthouse. | |
Trivia
The Harbor Lighthouse was previously named Windy City Lighthouse. Although in the game it's displayed as Harbor Lighthouse, the official book guide and e-guide still list it as Windy City Lighthouse.
The lighthouse is technically in The Loop district, and can be found well off its east coast, outside the district's border on the map.