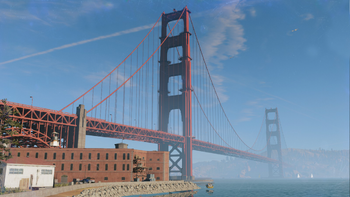 ❝ The Golden Gate is the most famous bridge in the world. Spanning three miles between San Francisco and Marin, the bridge is considered one of the Wonders of the Modern World.❞
―In-game description.
The Golden Gate Bridge is a world location and single-span suspension bridge in Watch Dogs 2.
Description
The Golden Gate Bridge is a suspension bridge and world-famous tourist destination in San Francisco. As a result of Blume's and CTOS's influence on the city, its towers are fitted with satellite dishes. The bridge has 4 lanes in total, 2 on each side. The bridge also has sidewalks on either side, although no pedestrians can be seen crossing the bridge. At the northern end of the bridge, off-ramps lead south back onto the road running beneath the bridge, while on the southern end of the bridge, the highway leads traffic towards the city, meeting at a cross road shortly after cornering east towards the city.
The player is unable to climb the bases of the suspension towers unlike the Bay Bridge, but the player can reach the top by hacking various mechanical platforms, eventually reaching the top. Common vehicles crossing the bridge include Coach and City Buses, limousines and Wildebeests.
Gallery