| | |
| --- | --- |
| | This article or section contains insufficient information and is considered a stub. You can assist this wiki by expanding it as much as you can. |
INFOBOX NOT FOUND:

This article lacks a proper infobox. You can help by adding one.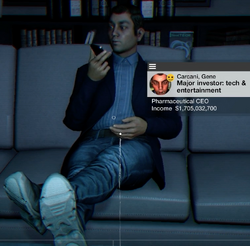 Gene Carcani is a character that appears in Watch Dogs 2.
Description
Gene Carcani is the CEO of a pharmaceutical company living in San Mateo, who wants to buy a copy of Bobo Dakes' new album. Marcus is instructed to hack into his home in attempt to extract $20 million for leukemia research. This is mainly due to the fact that Carcani raised the prices of his pharmaceutical products above the limit recently.
Trivia
Carcani currently has the highest revealed income in the Watch Dogs series, at $1,705,032,700. Behind him, Dušan Nemec is second at $110,029,000, a significant difference of $1,595,003,700. Dermot Quinn from the first Watch Dogs has the third highest income, at $10,022,700.
The fact that Carcani is the CEO of a pharmaceutical company and he recently raised the prices on his products could be a reference to Martin Shkreli, whose company, Turing Pharmaceuticals, was responsible for drastically increasing the price of Daraprim.

His desire to acquire Bobo Dakes' album is also reminiscent of Shkreli, who acquired a single-only production of the Wu-Tang Clan's album Once Upon a Time in Shaolin... at auction.
Carcani could also be based upon Heather Bresch, CEO of EpiPen company Hylan, who recently increased the price of an EpiPen to over 500% to earn more money for herself.
Ad blocker interference detected!
Wikia is a free-to-use site that makes money from advertising. We have a modified experience for viewers using ad blockers

Wikia is not accessible if you've made further modifications. Remove the custom ad blocker rule(s) and the page will load as expected.