| | |
| --- | --- |
| | This article or section contains insufficient information and is considered a stub. You can assist this wiki by expanding it as much as you can. |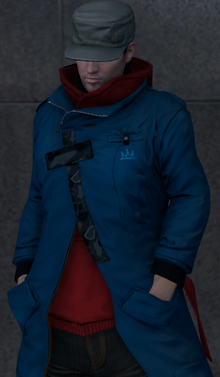 Elements is a clothing outfit that appears in Watch Dogs. Aiden Pearce is able to buy this outfit for $2000 at a clothing store. It is one of the more expensive items of clothing.
The outfit includes a light gray baseball cap, a nautical blue trench coat, a crimson sweatshirt, and brown pants. This, further suggested by the name of the outfit, is probably based on the classical elements included in many eastern religions: water (blue trench coat), fire (red sweatshirt), air (light gray baseball cap), and earth (brown pants).
Ad blocker interference detected!
Wikia is a free-to-use site that makes money from advertising. We have a modified experience for viewers using ad blockers

Wikia is not accessible if you've made further modifications. Remove the custom ad blocker rule(s) and the page will load as expected.