| | |
| --- | --- |
| | This article is in need of more images to give readers a better understanding of the content. You can help the wiki by adding a clear image(s) to the article to enhance it. |
| | |
| --- | --- |
| | This article or section needs to be improved, tidied, rewritten, or formatted to conform a higher standard of article quality. You can assist the wiki by improving it. |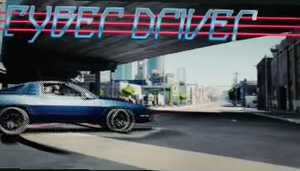 For the mission of the same name, see Cyberdriver.
CyberDriver is a fictional movie being produced during the events of Watch Dogs 2.
Summary
CyberDriver is being filmed in San Francisco during the events of Watch Dogs 2. The movie is shown as a blockbuster smash hit, while having cheesy acting, horrible writing, and outdated, misunderstood technology references. It stars Jimmy Siska as Devon Von Devon, an aviator sunglasses-wearing badass "looking for cyber justice" in a world where everything is connected and "a simple line of code could devastate everything". Devon uses his car, CHIP, to seek justice. The movie takes inspiration from the real-life Knight Rider and Terminator films.
Operation Hack and Run
Main article: Cyberdriver
DedSec is annoyed at the movie trailer for making hacker culture look idiotic and childish, and decides to launch "Operation Hack and Run". Marcus Holloway infiltrates Hook Motion Picture Studios, and downloads the script and related emails for the movie. The emails don't say the time the Cyber Driver car is going to be at its location, so Sitara falls on a backup plan: she sets up a deal with a paparazzi contact who knows the location, in exchange for giving him any intel he wants out of the collected emails. Marcus meets with him, and he asks for something juicy, so the contact tells him that Jimmy Siska is with pop star Nellie Schyier, sending his phone the sex tape after agreeing. The Paparazzi contact then gives Marcus a GPS of the car's route.
Marcus manages to steal the car from a restricted area guarded by police cars, and upon escaping from them, he drives the car to his DedSec hideout. Marcus, Wrench, Josh and Sitara then further customize the car, painting it to be the "official DedSec car" with the grim reaper and DedSec name on it, and modifying it so it can truly be driven remotely by controlling it via a tablet on a custom made software.
They then race the car through town remotely, while it is being chased by the police because it is recognized as the stolen Cyber Driver car. The media finds out and at first believes it's a stunt for the movie, but later finds out the car has DedSec written on it, and that it has no driver. The stunt ends with it jumping off a highway and crashing through a billboard ad for the Cyber Driver movie. After this the amount of followers DedSec has grows, and they can now plan for bigger, better things.
Ad blocker interference detected!
Wikia is a free-to-use site that makes money from advertising. We have a modified experience for viewers using ad blockers

Wikia is not accessible if you've made further modifications. Remove the custom ad blocker rule(s) and the page will load as expected.