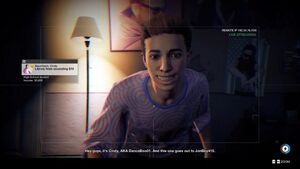 Cindy Baumbach is a minor character in Watch Dogs 2.
Summary
Cindy Baumbach is the niece of Sitara Dhawan. Very little is known about her, except that she broadcasts herself under the username DanceBoo01 to show off, and has a brother named Jimmy. Also, according to her CTOS profile, she is a high school student, owes over $70 in library book fees, and has an income of $3,650 a year.
Appearance
Cindy has brown hair in a pony tail, and wears a sweater with blue and pink designs on it, along with gray leggings with blue stripes.
Trivia