| | |
| --- | --- |
| | This article or section contains insufficient information and is considered a stub. You can assist this wiki by expanding it as much as you can. |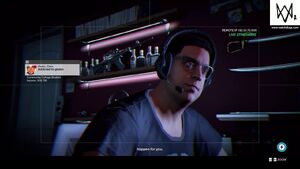 Chris Pinkle is a minor character in Watch Dogs 2, seen in the side mission Bad Publicity.
About
Chris is the main antagonist of the mission. He is inappropriately swatting other gamers in the name of DedSec, under the username Pr0-Lapz. Marcus pays a visit to Chris and hacks his webcam. He then calls the police while Chris is distracted, faking someone calling the police and gunshots being heard in the call. The police arrive at Chris's house and arrest him, and being swatted himself, he is confused and upset.
Trivia
In the mission, Chris can be seen playing Tom Clancy's Rainbow Six Siege, another Ubisoft game.
According to Chris's CTOS profile, he is a community college student with an income of $18,700, and is addicted to gluten.
Ad blocker interference detected!
Wikia is a free-to-use site that makes money from advertising. We have a modified experience for viewers using ad blockers

Wikia is not accessible if you've made further modifications. Remove the custom ad blocker rule(s) and the page will load as expected.