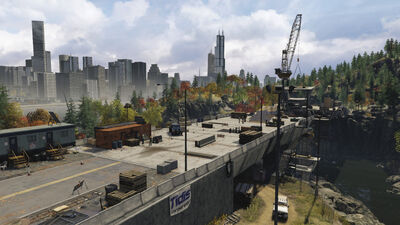 The Bridge Construction is one of the City Hotspot locations found in Pawnee and is a landmark within Chicago in Watch Dogs.
History
Due to the barriers encountered in attempting to replace neighboring bridges, the municipal government has begun construction on a more modern connection to the rest of the city of Chicago. The bridge has yet to be named, but for the sake of promotion, developers Barbieri & Selcedo are currently accepting suggestions on their website. Keep it cheerful! We don't want jumpers.
Badges
The following badges are available at this hotspot:
| Badge Icon | Badge Name | Badge Message | How to Obtain | Mission |
| --- | --- | --- | --- | --- |
| | Bridge Builder | Ever been to Madison County? I think you might like it. | Check in at the Cermak Bridge, the Bridge Construction, and the Vyvyn K. Turner Bridge. | |
Ad blocker interference detected!
Wikia is a free-to-use site that makes money from advertising. We have a modified experience for viewers using ad blockers

Wikia is not accessible if you've made further modifications. Remove the custom ad blocker rule(s) and the page will load as expected.