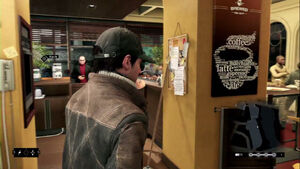 Brewed Delight is a franchise of cafés in Chicago.
Description
Brewed Delight cafés offer a variety of hot drinks along with pastries and desserts to compliment. Aiden can purchase a three dollar cup of coffee that will instantly but temporarily boost the focus meter. At some of their cafés, you can play chess.
Advertising
The company has a large quantity of billboards plastered across the city; both on buildings and placed on the sides of trucks.
Locations
Appearances