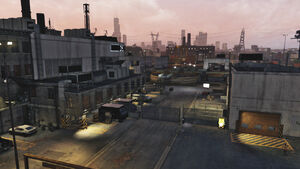 Brandon Docks is a large industrial district, or borough, in the southwestern portion of Watch Dogs' rendition of Chicago.
About
Hence the name, the district is industrial and features a large port. Because this is an industrial area, industrial vehicles such as Flatbeds and Relegaters spawn very often. From the start of the game, this area is locked when it comes to hacking other pedestrians and performing most commands using the Profiler or Smartphone, much like with The Wards and Mad Mile. Because of this, Aiden must go to this district's own CTOS Control Center located in the port to intrude and unlock it. After doing so, Aiden can now hack pedestrians and make commands using his Profiler and Smartphone (such as using the Car On Demand app). 
Businesses
CTOS Control Center
It is located in the Lakeshore Water Refinery. Aiden must hack it to find Robert Racine.
CTOS Towers
Lake Shore Tower
Des Monts Canal Tower
Calumet Market Tower
City Hotspots
There are a total of six City Hotspots located in Brandon Docks.
Cash Runs
There are a total of 10 Cash Run locations in Brandon Docks.
Trivia
Some blue freight trains spawn at the port. They do not move and this is their only appearance in the game. 
Ad blocker interference detected!
Wikia is a free-to-use site that makes money from advertising. We have a modified experience for viewers using ad blockers

Wikia is not accessible if you've made further modifications. Remove the custom ad blocker rule(s) and the page will load as expected.