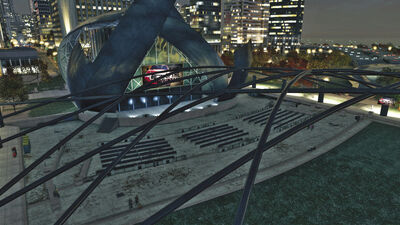 The Bram Steffan Pavilion is one of the City Hotspot locations found in The Loop and is a landmark within Chicago in Watch Dogs.
It is based on the Pritzker Pavilion in Millennium Park.
History
Grant Park's center for classical music, the Bram Steffan Pavilion is home to Chicago's largest annual musical festival. The city prides itself in being able to host free concerts here. The Pavilion's acoustics are so impeccable, music performed can be heard outside the park. So those of you who love music but hate people, you're in luck!
Ad blocker interference detected!
Wikia is a free-to-use site that makes money from advertising. We have a modified experience for viewers using ad blockers

Wikia is not accessible if you've made further modifications. Remove the custom ad blocker rule(s) and the page will load as expected.