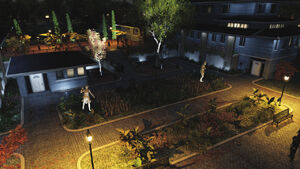 Botanical Gardens is one of the City Hotspot locations found in Parker Square and is a landmark within Chicago in Watch Dogs.
History
Brimming with magnificent flora since 1992, the Botanical Gardens serves as a reminder of how important it is to preserve the natural beauty of our world. The statues that populate the courtyard were donated by oil baron Kurt Igmar, giving the gardens an air of Greek classicism and cruel irony. Allergy medication is available for purchase in the gift shop.
Badges
The following badges are available at this hotspot:
| Badge Icon | Badge Name | Badge Message | How to Obtain | Mission |
| --- | --- | --- | --- | --- |
| | Green Thumb | Would a rose by any other name smell as sweet? | Check into the Botanical Gardens when it's raining. | |
Ad blocker interference detected!
Wikia is a free-to-use site that makes money from advertising. We have a modified experience for viewers using ad blockers

Wikia is not accessible if you've made further modifications. Remove the custom ad blocker rule(s) and the page will load as expected.