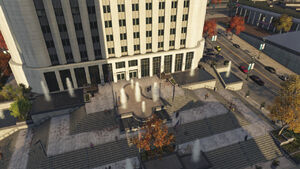 The Aon Center is one of the City Hotspot locations found in The Loop and is a landmark within Chicago in Watch Dogs.
History
Completed in 1974, the Aon Center was the tallest building in Chicago at the time and was nicknamed "Big Stan." You might notice as you explore this fair city that many skyscrapers are nicknamed "Big Something." I wonder why that is?
Ad blocker interference detected!
Wikia is a free-to-use site that makes money from advertising. We have a modified experience for viewers using ad blockers

Wikia is not accessible if you've made further modifications. Remove the custom ad blocker rule(s) and the page will load as expected.