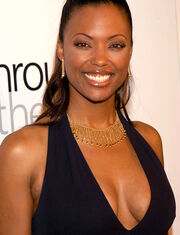 Aisha Tyler
(born September 18, 1970) is an American actress, comedian, and author best known for her regular role as Andrea Marino in season one of
Ghost Whisperer
and voicing Lana Kane in
Archer
. She is currently a co-host of
The Talk
and the new host of
Whose Line is it Anyway?
.
She appears as an easter egg in-game during "A Wrench in the Works", where she is seen talking to another NPC. She is also seen in one Privacy Invasion, talking about farts and being followed.
Ad blocker interference detected!
Wikia is a free-to-use site that makes money from advertising. We have a modified experience for viewers using ad blockers

Wikia is not accessible if you've made further modifications. Remove the custom ad blocker rule(s) and the page will load as expected.